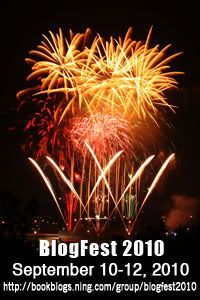 Blogfest 2010 is hosted by Cinnamon at
A Journey of Books
. Be sure to head on over to her blog for the full list of over 250 participating Blogfest blogs! There is also another awesome feature that you will want to check out! Want to keep track of which blogs you have been to and which giveaways you have entered? Cinnamon will have a link to a website where you can track your progress! How awesome is that?! If you use this very cool tracking website, you will be entered into the massive giveaway with LOTS and LOTS of prizes!! Yes, you will have to provide an email address to register on the tracking site, but it will be promptly deleted after the massive giveaway winner has been notified and is only used to track your progress in Blogfest!
And this fantabulous prize I'm giving away .........
RULES:
1. The giveaway is open to residents of the U.S. only
2. Please submit your name and email address into the contestmachine box below. Do not leave information in the comments - it will not count!
3. The giveaway will last 72 hours! It will start on September 10 at 12am EST and end on September 12 at 11:59pm EST!
4. Once the giveaway ends, my contestmachine randomizer will randomly select one winner from all verified entrants. The winner will have 48 hours to respond to my winner notification email (sent through contestmachine.com - please make sure to allow emails from contestmachine.com in your spam filters!).
5. I will order the gift certificate and have it sent via email as soon as I have confirmation from the winner.
********************************************************************************
Hop on over to the next Blogfest blog!
So many prizes, so little time!!
Have fun!
**********************************************************************************